Home » Products » Bolting Tools » Hydraulic Bolt Tensioners »

Electric Driven Hydraulic Pump
Electric Driven Hydraulic Pump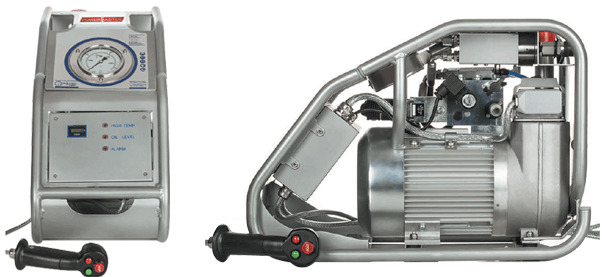 Electric Driven Hydraulic Pump
Features :
Huge oil flow due to intelligent electronic controlling and powerful motor.
All from the remote hand control grip with one single operation..
Extremely high quality valves and components for a high duty cycle to ensure reliability and durability of the unit.
Low pressure return Filter and High Pressure Filter (10 μm) with electronic clogging sensors and alarms in control box.
Capable of continuous operation - minimal heat generation for efficient bolting.
Low running costs - Brush-free synchronized motor, maintenance-free and low in wear.
Applications:
Electric driven hydraulic pump, usable worldwide up to 1600 bar for bolt tensioning tools.
Totally remote control the pump from the controller hand grip.
Designed to work in adverse environmental conditions.
Technical Details:

Pump
Current Supply
230V-50Hz / 100V-60Hz
Power
kW
1.5
Rated Current
10.5 A (230 V) / 20.5 A (110 V)
Starting Power
3.3 X IN
COS
Ø
0.94
Turning Speed
rpm
2800 r.p.m.
Tank Capacity
I
4.7 l.
Available Volume
I
1.7 l.
Oil Flow:
Maximum Pressure
bar
2000
Weight
Empty Weight
Kg
35
Dimensions
L x W x H
mm
570 x 280 x 400