Home » Products » Bolting Tools » Hydraulic Torque Wrenches »

Pumps - CP1000 (Electric)
CP-1000 ELECTRIC DRIVEN AUTO CYCLE HYDRAULIC PUMP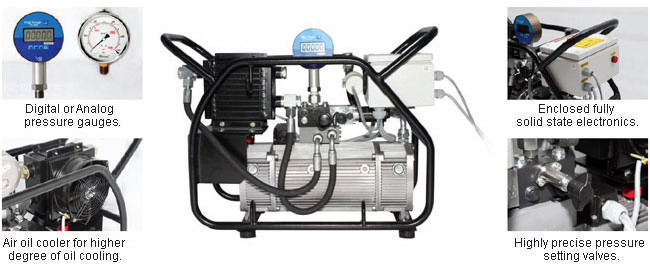 Power Packed Performance For High Production Environments
Hydraulic torque wrenches are only as efficient as the hydraulic pump that make them perform. Powermaster has invested to evolve its hydraulic torque wrench pumps to the highest standards of pump design and solid state electronics, to give you a pump that is unmatched in durability, speed and performance. It combines high flow, low heat generation and an auto cycle feature all in a very compact and light weight design.

The latest CP units use a Hawe Pump and Siemens solid state circuitry to control all operations. They are available in 110 V and 230 V versions in both a vertical and horizontal configuration. The main objective during the development of the power pumps, was not only to fulfill the high demands for compactness, reduced system heating, fast response time, easy serviceability and easy portability but also to create state-of-the art design and provide customized solutions including the Microprocessor controller, which are ready to use.
Features
Much lower noise developed than any other pump on the market - only 75 dB.
Integrated oil cooler.
Substantial savings in energy and oil consumption.
Controlled via low voltage remote control that is available in different lengths and versions. Remote Control Pendant allows operation in "Auto Cycle" or "Torque Cycle" modes.
Visual Temperature Strips (60° C - 90° C).
Available in manual and auto cycle versions.
Analog or Digital pressure gauges assure the highest possible read out and adjustment precision.
Includes automatic advance and retract stroke control for greater comfort and highly efficient operation.
High speed / flow.
Highly precise pressure setting valves.
Automated pressure relief valve makes connection of the tool easier.
Microprocessor controlled.
Safety Interlock: If the unit is kept running idle without pressurizing for more than 60 seconds, the unit is switched OFF automatically. To start the unit again, the START button (Push Button 1) has to be pressed.
Temperature Interlock: If the temperature of the hydraulic oil rises above 80° C, power pack switches off automatically.
Light weight only 38 kgs.
Available in 110 V and 230 V versions.
Works in areas where substantial drops in voltage and high voltage fluctuation are frequent.
Technical Details - Model CP-1000
Pump
Main Voltage
230 V 50Hz
Solenoid Voltage
V DC
24
Main Consumption
A
7.20
Motor Capacity
kW
1.10
Protected According to
IP 54
Nominal Pressure
bar
20-700
Flow
1st Stage
lpm
9.7 lpm (70 bar)
1 lpm (700 bar)
2st Stage
lpm
Tank Volume
litre
6
Usable Volume
litre
3
Oil Type
ISO VG 68
Ambient Temperature
C
45 deg
Max Oil Temperature
C
60 deg
Weight
Weight without oil
Kg
38
Safety Features
Rugged and secure roll cage.
Removable PSI / Bar Pressure Gauge.
Hawe Pump.
1-10 kW fully enclosed motor.
Enclosed fully solid state electronics.
Heavy duty low voltage remote control pendant.
Add on block for Quadra Port (supplied as separate kit)
Supplied with 15ft. long dual non conductive hoses with 4:1 safety factor.
Usable. Volume (litre)
Valve
Motor Capacity
Flow Rate lpm (bar)
Weight
Control
kW
1st Stage
2nd Stage
kg
lbs
3
Solenoid
1.10
9.7 lpm (70 bar)
1 lpm (700 bar)
38
84