The Spreading Wedge has been developed as the simple cost-effective solution for flange spreading.
The MSW-10 can be used during
Commissioning.
Construction.
Routine Maintenance.
Shutdowns / Outages.
Testing.
Valve Change-outs.
Special Features
Only requires an access gap of 1/4"(6 mm).
Robust Light weight Tool-Just 6.5 kg(14.3 lbs).
Operated mechanically with reversible ratchet of 3/4"
Automatic Spring Return.
Locking at first step ensures no slippage increased safety
Operating Benefits
Time / Cost Savings.
Lowest Weight / Lifting Force Ratio.
Precise.
Easy to set up and use.
Safe.
Minimal Maintenance.
Fast for labour and time savings.
---
Mini Kit
1 x Manual Spreading Wedge Assembly
1 x Safety Block
1 x Instruction Manual
1 x Carry Case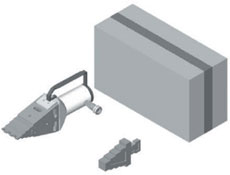 ---
Standard Kit
1 x Manual Spreading Wedge Assembly
1 x Manual Ratcheting Wrench
1 x Safety Block
1 x Instruction Manual
1 x Carry Case
Gross Weight: 11 kg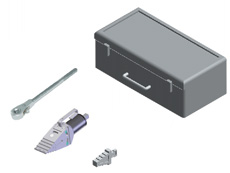 ---
Stepped Block Accessory
2 x Stepped Blocks
2 x CSK M6 x 12mm
Countersunk Screws
1 x M4 Allen Key
Sold as a separate item in pairs