Home » Products » Bolting Tools » Hydraulic Bolt Tensioners »

Electric Bolt Tensioner Pump PM-EH-1500
ELECTRIC BOLT TENSIONER PUMP PM-EH-1500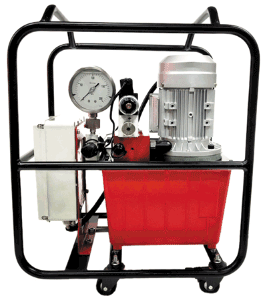 Electric Bolt Tensioner Pump PM-EH-1500
Features :
Heavy Duty Steel Frame: Unit is enclosed in heavy duty frame for protection during handling usage and transportation.
Calibrated Pressure Gauge: Calibrated 150mm (6"), liquid filled, SS Frame, 2500 bar rating pressure gauge with dual reading of bar and psi.
Ergonomical layout: Logical layout of equipments and controls ensure easy operation and maintenance.
High Flow Rate: Provides high initial flow rate to ensure faster operation.
Remote Control: Hand haled remote control for easy and safe operation.
High Quality Equipments: Heavy duty cycle comforts for reliability and durability of the unit.
The PM-EH-1500 Electric motor with gear pump are designed to provide optimal service with bolt tensioner or hydraulic
tools single-acting. Equipped with remote control with 5 m. cable for an easy use, 6 Ltr. tank, electromagnetic level and
protective framework it is the ideal tool under all job conditions.

Model
PM-EH-1500
Maximum pressure 1st stage
bar
150
psi
2,145
Maximum pressure 2nd stage
bar
1,500
psi
21,450
Hydraulic flow 1st stage
Lt./min
3
Hydraulic flow 2nd stage
Lt./min
0.7
Power rating and Voltage
kW / V
1.1 / 230 V - 50Hz / single-phase
1.1 / 230/400 V - 50Hz / three-phase
Speed
rpm
2800
Sound level
dB(A)
80
Relief valve range
bar
20 - 150
psi
286 - 2,145
Intensification factor
10 : 1
Electric pump weight
Kg.
30 (with 6 Lt. Reservoir, frame and remote control)
Other Models with higher maximum operating pressures, digital pressure gauges and larger hydraulic reservoir capacities are available as per customer requirements.